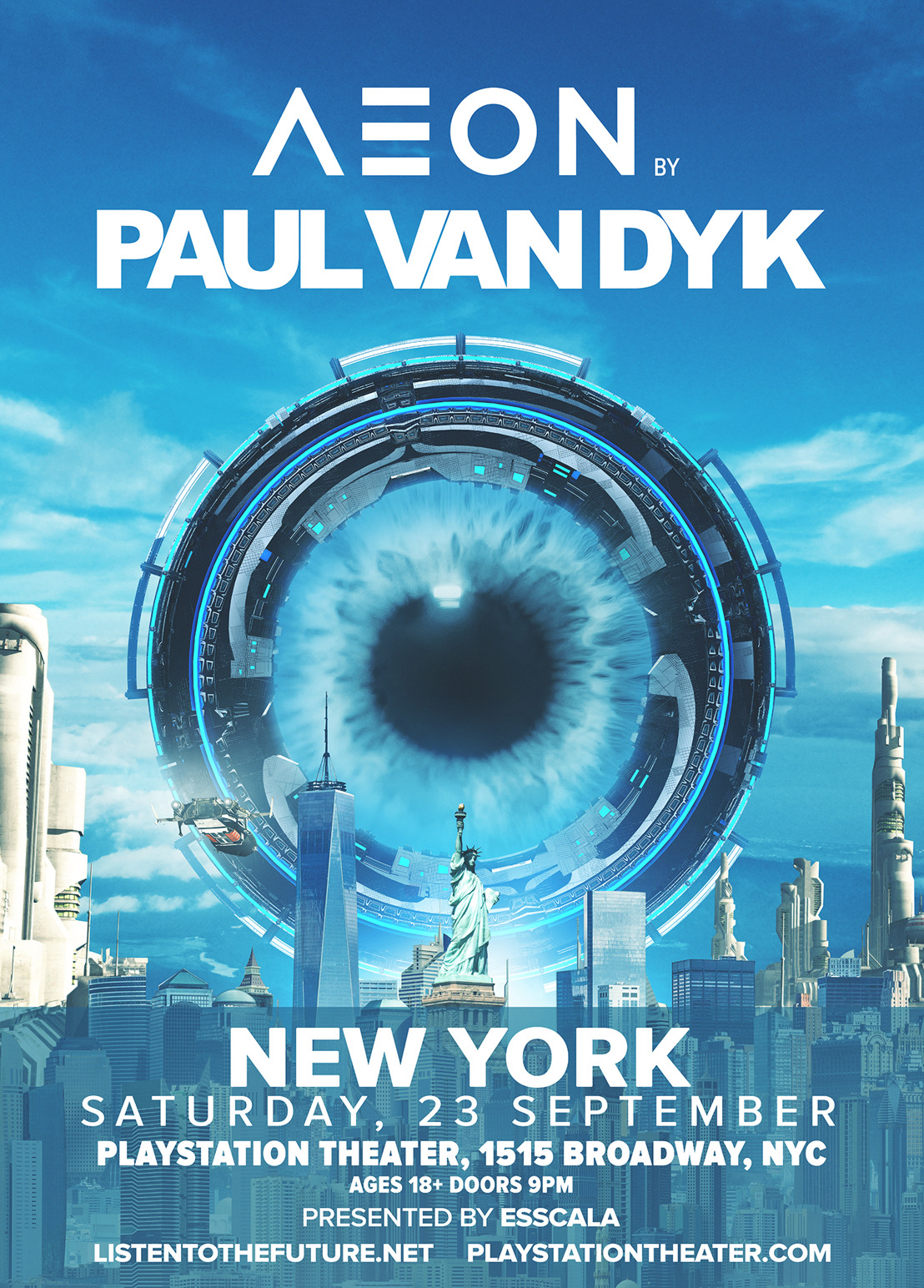 'AEON by Paul van Dyk', a New Audiovisual Performance Concept from Paul van Dyk + Debuting at NYC Show on September 23rd
Van Dyk Also Releases New Song with Pierre Pienaar 'Stronger Together'
Thursday, July 20, 2017 — Stream 'Stronger Together' HERE
Paul van Dyk has today announced the debut of his new live audiovisual show concept, 'AEON by Paul van Dyk'. The project marks a new chapter in his life, turning over the page from 2016 when he sustained life-threatening injuries after falling through a faulty stage set-up at a headlining festival set in Europe. 'AEON by Paul van Dyk' signals a new beginning - not just physically but also creatively for one of electronic music's most enduring artists.
'AEON by Paul van Dyk' is a brand new audio-visual concept - essentially an invitation to join PvD on a journey into another dimension. Though details are still under wraps, this will be a full-scale show design that will take audiences on a voyage through his music - from the gates of AEON and into a parallel universe. This new show will feature van Dyk performing alongside other musicians and visual artists.
'AEON by Paul van Dyk' will make it's debut in New York City on September 23rd at the Playstation Theater. Pre-sale tickets are available for purchase here.
Coinciding with the announcement of 'AEON by Paul van Dyk', the German trance artist has also released a new song, a blissfully uplifting track entitled "Stronger Together" featuring Pierre Pienaar. This is the second release that PvD has put out in 2017, following his track "Touched by Heaven". "Stronger Together" was made in collaboration with VANDIT Records' protege Pierre Pienaar, a 33 year old producer by ways of Namibia in Southern Africa. Paul's collaboration with Pienaar is a testament to trance music's boundless influence which stretches beyond borders, races and languages.
In times of terror, ethno-nationalism, social exclusion and climate change - Paul van Dyk wanted to make it abundantly clear through his music that now more than ever, it's an important time to come together to celebrate peace and unity. Despite the polarizing politics of the day, music will always be a unifying force; and trance music specifically has always championed diversity and acceptance both on the dance floor but in life generally. Promoting peace has been an essential aspect of van Dyk's career, who was awarded the Berlin Medal of Honor is 2006 in recognition of his charity work with underprivileged children in Germany and India.
2017 has already been an immensely busy year for Paul van Dyk. After missing months of touring due to the accident in 2016, he returned for a 14 stop 'Listen To The Future' tour through North America, presented by Dreamstate, in conjunction with Insomniac. The tour sold out venues from coast to coast, and was capped off by a headlining set at the Dreamstate Festival in San Francisco in May. Paul van Dyk also played a highly anticipated set at EDC Las Vegas, where he's routinely been headlining throughout the past two decades. This summer, Paul will be performing on a biweekly basis at his residency at Cream in Ibiza; the longest running residency in the island's history.